OA1040: Broadway Sampler: 1915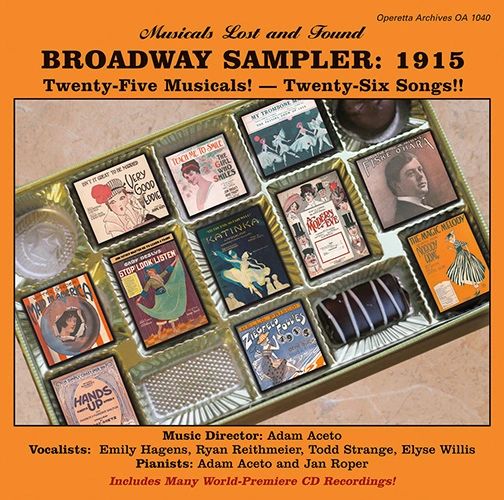 OA1040: Broadway Sampler: 1915
Broadway Sampler: 1915
Twenty-Five Musicals! – Twenty-Six Songs!!
Musical Director:  Adam Aceto
Vocalists:  Emily Hagens, Ryan Reithmeier, Todd Strange, Elyse Willis
Pianists:  Adam Aceto and Jan Roper
 In 1915, twenty-five musical stage works opened on Broadway—shows labeled as operettas, comic operas, musical plays, musical revues, comedies with music—with stylings that pointed backwards, forwards, and sideways. Jerome Kern, Cole Porter, Irving Berlin, Sigmund Romberg, and Rudolf Friml were in the early stages of their careers, and Victor Herbert was heading toward his final years. Very little of the more than 300 songs written for these shows has been recorded on modern media. This CD takes a step toward addressing this shortfall by offering one song from each of the works that opened  in 1915—plus, from one of the shows, a second song: Cole Porter's first Broadway tune.
Show and Song Credits
1.  Ninety in the Shade:  "Where's the Girl for Me?"    (M: Jerome Kern    L: Harry B. Smith)  Ryan
2.  Maid in America:  "I'm Looking for Someone's Heart"    (M: Sigmund Romberg    L: Harold Atteridge)  Emily, Ensemble
3.  Jack's Romance:  "You and I"    (M: Linda Bloodgood    L: Fiske O'Hara)  Todd
4.  The Peasant Girl:  "Listen Dear"    (M: Rudolf Friml    L: Herbert Reynolds)  Elyse, Ryan
5.  Fads and Fancies:  "Alimony Alley"    (M: Raymond Hubbell    L: Glen MacDonough)  Ryan, Todd
6.  Nobody Home:  "The Magic Melody"    (M: Jerome Kern    L: Schuyler Greene)  Elyse, Ensemble
7.  A Modern Eve:  "Good-Bye Everybody"    (M: Jean Gilbert    L: Will M. Hough)  Elyse, Todd
8.  The Passing Show of 1915:  "The Trombone Man"    (M: J. Leubrie Hill    L: Harold Atteridge)  Emily, Ensemble
9.  Ziegfeld Follies of 1915:  "Hello, Frisco"    (M: Louis A. Hirsch    L: Gene Buck)  Elyse, Ryan
10.  Hands Up:  "I'm Simply Crazy over You"    (M: Jean Schwartz    L: William Jerome, E. Ray Goetz)  Emily, Todd
11.  Hands Up:  "Esmerelda"    (M&L: Cole Porter )  Elyse, Ryan
12.  The Blue Paradise:  "My Model Girl"    (M: Sigmund Romberg    L: Harold Atteridge)  Emily, Todd
13.  The Girl Who Smiles:  "Teach Me to Smile"    (M: Jean Briquet, Adolff Philipp    L: Edward A. Paulton, Adolf Philipp)  Elyse, Ryan
14.  Cousin Lucy:  "Society"    (M: Jerome Kern    L: Schuyler Greene)  Todd, Ensemble
15.  Two Is Company:  "Dimple"    (M: Jean Briquet, Adolf Philipp    L: Edward A. Paulton, Adolf Philipp)  Emily
16.  (Ned Wayburn's) Town Topics:  "Melody of the Century"    (M: Harold Orlob    L: Thomas J. Gray)  Elyse, Ensemble
17.  The Princess Pat:  "Make Him Guess"    (M: Victor Herbert    L: Henry Blossom)  Elyse, Emily
18.  Hip-Hip Hooray:  "The Ladder of Roses"    (M: Raymond Hubbell    L: R. H. Burnside)  Todd, Ensemble
19.  Miss Information:  "Two Big Eyes"    (M: Cole Porter    L: John L. Golden)  Emily
20.  A World of Pleasure:  "Girl of the Fan"    (M: Sigmund Romberg    L: Harold Atteridge)  Elyse, Ryan, Ensemble
21.  Alone at Last:  "Kiss Me, Dear"    (M: Franz Lehár    L: Matthew C. Woodward)  Emily, Todd
22.  Around the Map:  "Here Comes Tootsi"    (M: Herman Finck    L: C. M. S. McLellan)  Emily, Ryan, Ensemble
23.  Katinka:  "'Tis the End, so Farewell"    (M: Rudolf Friml    L: Otto Hauerbach)  Elyse, Todd
24.  Very Good Eddie:  "Isn't It Great to Be Married?"    (M: Jerome Kern    L: Schuyler Greene)  Ensemble
25.  Stop! Look! Listen!:  "And Father Wanted Me to Learn a Trade"    (M&L: Irving Berlin)  Ryan
26.  Ruggles of Red Gap:  "Everybody Hum with Me"    (M: Sigmund Romberg    L: Harold Atteridge)  Elyse