OA1034: Broadway Tuned Up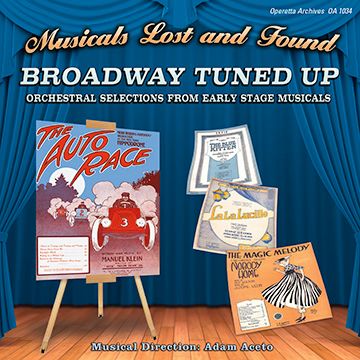 OA1034: Broadway Tuned Up
Broadway Tuned Up
Orchestral Selections from Early Stage Musicals
World-premiere recordings of the original published orchestral medleys from ten rare Broadway musicals from the years 1907 to 1926. Hear Gershwin's La La Lucille; Kern's Nobody Home and Head Over Heels; Friml's The Blue Kitten; and melody after melody from the likes of Louis Hirsch, Robert Hood Bowers, Manuel Klein, and Lewis Gensler.


1. The Auto Race (1907)   Manuel Klein

2. The Red Rose (1911)    Robert Hood Bowers

3. Nobody Home (1915)   Jerome Kern

4. Head Over Heels (1918)  Jerome Kern

5. Oh, My Dear! (1918)   Louis A. Hirsch

6. La La Lucille (1919)  George Gershwin

7. A Lonely Romeo (1919)  Robert Hood Bowers

8. The O'Brien Girl (1921)  Louis A. Hirsch

9. The Blue Kitten (1922)  Rudolf Friml

10. Queen High (1926)  Lewis Gensler


Orchestra:
Piano: Adam Aceto
Violins: Grant Garibyan, Boryana Popova, Lacy Rostyak
Cello: Suji Kang
Flute/Piccolo: Weili Kang
Oboe: Rebecca Emigh
Clarinet/Saxophone: Michael Couper
Trumpets/Cornets: Ian Souter,
Charles Summerour
Trombone: David Howells
Drums: Paul Angers
1 CD     Total playing time:  76:38 min.