OA1031: My Home Town Girl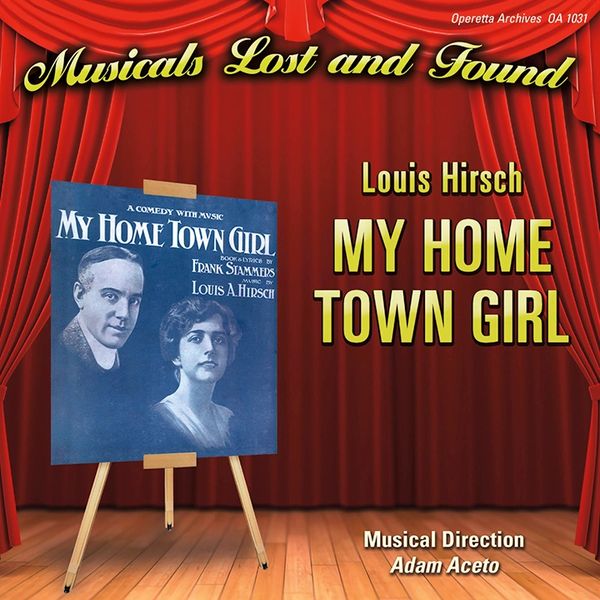 OA1031: My Home Town Girl
MY HOME TOWN GIRL
by Louis Hirsch

New York-born Louis Hirsch (1881–1924) reigned with Jerome Kern as a leading driver in transitioning American musical theater, in the second decade of the 20th century, from the operetta and music hall stylings of the past to a new "modern" brand of musical comedy—with witty, intimate, believable plotlines and a ceaselessly melodic musical score. This studio recording, with four-hand piano accompaniment, of Hirsch's complete score for his 1915 musical My Home Town Girl is the first in a planned series that will revisit the rare musical theater gems of a bygone era.


ACT I: "The Bride Shop," Fifth Avenue, New York (morning)
1. Overture
2. Opening: If You Would Like to Know
     Shopgirls, Bridesmaids, Boys
3. Madame Marie
     Marie
4. When I Found You
     Dudley, Eleanor
5. There are Thousands of Girlies
     Tony, Girls
6. Hello Dorothy May
     Dorothy
7. Love Me in the Morning Early
     Dorothy, Tony
     Dorothy, Eleanor, Tony, Dudley
9. Finale
     Ensemble
ACT II: Eleanor Arlington's Home, Riverside Drive (evening)
10. Opening: Dance, Dance, Dance
       Ensemble
11. Boy of Mine I Wait for You
       Eleanor
12. Show Me 'Round the Town
       Peter
13. My Home Town
       Dorothy, Tony
14. Till You Belong to Me
       Peter, Marie
15. Games of Childhood
       Dorothy, Tony
16. There's Always a Way
       Dudley, Eleanor
17. I'm Over Here All Alone  Audio Sample
       Dorothy, Tony
18. Finale      
       Ensemble
Bonus Songs: Performed during the show's run, but not included in the published vocal score
19. Perfume of Love
       Emmeline
       Peter
21. Take a Little Kiss    Audio Sample 

       Dorothy, Boys

Your browser does not support the audio element.

1 CD     Total playing time:  61 min.