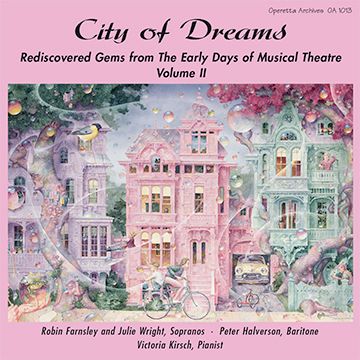 OA1013: City of Dreams
CITY OF DREAMS

Rediscovered Gems from The Early Days of Musical Theatre:  Volume II

The popularity of early 20th-century musical theatre – as evidenced by the large number of 78-rpm recordings and sheet music releases – suggests that there is a lot more good music there than has survived the passage of decades. This CD, the second in a continuing series, aims to further validate this claim. It features ballads and comic songs from 19 musicals and operettas – 14 from Broadway and five from London's West End – that opened between 1903 and 1928.

Robin Farnsley and Julie Wright, sopranos    
Peter Halverson, baritone         
Victoria Kirsch, piano

1. Oh, My Dear!: City of dreams   (M: Louis Hirsch L: P. G. Wodehouse) Julie Wright
Audio Sample

2. The Little Cherub: Experience  (M: Ivan Caryll L: Adrian Ross) Robin Farnsley
Audio Sample

3. Aphrodite: Alexandria     (M: Anselm Goetzl L: Arthur A. Penn) Peter Halverson
4. The Hotel Mouse: I'll dream of you     (M: Armand Vecsey L: Clifford Grey) Robin Farnsley, Peter Halverson
5. Alma, Where Do You Live?: Alma     (M: Jean Briquet L: George V. Hobart) Julie Wright
6. The Ham Tree: Honey, love me all the time     (M: Jean Schwartz L: William Jerome) Robin Farnsley, Peter Halverson
7. Natja: The magic of moonlight and love     (M: Peter Tchaikovsky (arr. Karl Hajos) L: Harry B. Smith) Robin Farnsley
8. The Passing Show of 1917: Won't you send a letter to me?     (M: Sigmund Romberg L: Harold Atteridge) Peter Halverson
9. The Beauty Prize: A cottage in Kent   (M: Jerome Kern L: George Grossmith, P. G. Wodehouse) Robin Farnsley, Peter Halverson
10. Little Boy Blue: Love never dies     (M: Henri Berény L: Edward A. Paulton) Robin Farnsley
11. Jumping Jupiter: The rest of the week she's mine     (M: John Bratton L: Charles H. Taylor) Peter Halverson
12. Flora Bella: Give me all of you     (M: Milton Schwarzwald L: Earl Carroll) Julie Wright
13. Lady Mary: Calling me home     (M: Richard Meyer and Albert Sirmay L: Harry Graham) Peter Halverson
14. The Honeymoon Express: Who paid the rent for Mrs. Rip Van Winkle?     (M: Fred Fisher L: Alfred Bryan) Robin Farnsley
15. Mayflowers: The road of dreams     (M: Pat Thayer, J. Fred Coots, Maurie RubensL: Donovan Parsons, Clifford Grey) Julie Wright, Peter Halverson
16 The Orchid: From far Peru    (M: Ivan Caryll L: Adrian Ross) Peter Halverson, Julie Wright, Robin Farnsley
Audio Sample

17. The Duchess: If I should dream of you     (M: Victor Herbert L: Joseph Herbert, Harry B. Smith) Julie Wright, Peter Halverson

18. The Four Husbands: Oh, you wonderful girls!     (M and L: William Friedlander) Peter Halverson
19. Clo-Clo: I'll dream of you   (M: Franz Lehár L: Harry Graham, Douglas Furber) Robin Farnsley, Peter Halverson
Audio Sample