OA1011: The Violet of Montmartre (3 CDs)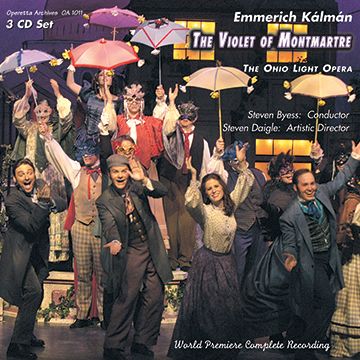 OA1011: The Violet of Montmartre (3 CDs)
THE OHIO LIGHT OPERA
2004 Festival Season
presents
The Violet of Montmartre
(Das Veilchen vom Montmartre)
With harmonies that pay homage to Erich Wolfgang Korngold and Richard Strauss, Kálmán is at his most international in this Bohème-inspired story of three starving artists and the street singer who comes to their rescue. Sung in English, with full libretto enclosed, this is the first complete recording of what surely ranks as one of the composer's masterpieces. Bonus tracks include two songs that Kálmán inserted in the 1930 Berlin production.


Music by Emmerich Kálmán
New Performance Edition and Translation by Steven Daigle
Original German Book and Lyrics by Julius Brammer and Alfred Grünwald
Conductor: Steven Byess
Stage Director: Steven Daigle

Audio Samples:

Your browser does not support the audio element.

Your browser does not support the audio element.


Cast
Violetta Cavallini, a street singer, "The Violet of Montmartre"
Nancy María Balach
Raoul Delacroix, a painter
Brian Woods
Florimond Hervé, a musician
Grant Knox

Henri Murger, a poet
Ted Christopher

Ninon, a grisette
Robin De Leon

General Pipo de Frascatti, Minister of Fine Arts
James Harr

François Pisquatschec, town bailiff
Gregory Brookes

Parigi, Violetta's guardian, a street musician
Kevin Blickfeldt

Baron Jacob Rothschild
Oliver Henderson

Camille Blumé, art dealer and theater fan
Joshua Kohl

The Directorof the Vaudeville Theater in Paris
Justin Legris

Secretary Leblancof the Ministry of Fine Arts
Oliver Henderson

Maurice, theater usher
Lee Matsos

Frapeau, stage manager
Nathan Brian

Armand, an elderly bohemian
Spiro Matsos

Lolette, cast member of "A Kiss in Springtime"
Shannon Langman

Chochette, cast member of "A Kiss in Springtime"
Betha Christopher

Fleurette, cast member of "A Kiss in Springtime"
Penny Hansen

Bébé, a messenger of the dress shop "The Two Monkeys"
Julianna Byess

Margot, Ninon's maid
Rachel Rowe

Kitchen Boy
David Haslam
Chorus: Sara Gartland, Sahara Glasener, Jessica Hornsten, Danielle McCormick, Dominique, McCormick, Sarah Minckler, Elizabeth Mitchell, Sandra Ross, Rosanna Yoder, Carl Bara, Drake Dantzler

Live recording with complete dialogue.
Bonus tracks include songs ("Warum weiß mein Herz nichts von dir", Nancy María Balach, soprano,
and "Heut' nacht hab' ich geträumt von dir", Joshua Kohl, tenor) that Kálmán inserted in the
Berlin production.
3-CD set 40-page color booklet with complete libretto Total playing time: 2 hr 44 min