OA1009: Arizona Lady (2 CDs)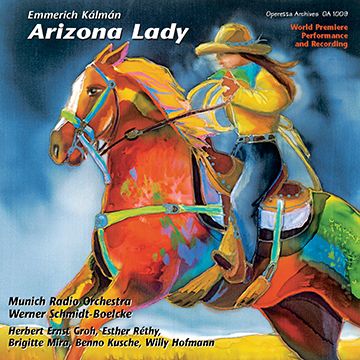 OA1009: Arizona Lady (2 CDs)
Emmerich Kálmán
Arizona Lady
Operetta in Two Acts / Operette in zwei Akten
Libretto:  Alfred Grünwald and / und Gustav Beer

Kálmán's last operetta, a tribute to America, where he made his home during the 1940's, premiered on Bavarian Radio on New Year's Day, 1954.  This CD recording, the first-ever of the show, is taken complete from that broadcast and features some of the top German singers of the day, including Herbert Ernst Groh, dubbed as Richard Tauber's rightful successor.  Sung in German.

Munich Radio Orchestra / Münchner Rundfunkorchester
Bavarian Radio Chorus / Chor des Bayerischen Rundfunks
Conductor / Dirigent:  Werner Schmidt-Boelcke
World Premiere Performance/ Uraufführung:  January 1, 1954


Audio Samples:
CD1, Track 2
Cast

Lona Farrell, proprietress of the Sunshine Ranch /Besitzerin der Sunshine-Ranch
    
Esther Réthy
Harry Sullivan, sheriff  / Sheriff  
     Benno Kusche
Chester Kingsbury, Jr.   
     Willy Hofmann
Nelly Nettleton  
     Brigitte Mira
Roy Dexter, a cowboy from Colorado /ein Cowboy aus Colorado  
     Herbert Ernst Groh
(dialogue / dialog   Ullrich Beiger)
Lopez Ibanez, a rich Mexican rancher /ein reicher mexikanischer Rancher 
     Ernst Fritz Fürbringer

Jim Slaughter, a cowboy / ein Cowboy  
     Fritz Rasp  
Bill Sanders, a cowboy / ein Cowboy
     Hans Hermann Schaufuß
Cavarelli, a mind reader / Gedankenleser
     Kurt Großkurth
 Bonita, a Mexican dancer / eine Mexikanische Tänzerin
      Mady Rahl  
Bentschley, a vagrant / ein Landstreicher
      Bum Krüger  
Peligreen, jail warden / Arrestaufseher
      Otto Storr

Sung in German / In deutscher Sprache
2-CD set                36-page English/German booklet enclosed                
Total playing time:  1 hr 53 min