OA1032: He Came From Milwaukee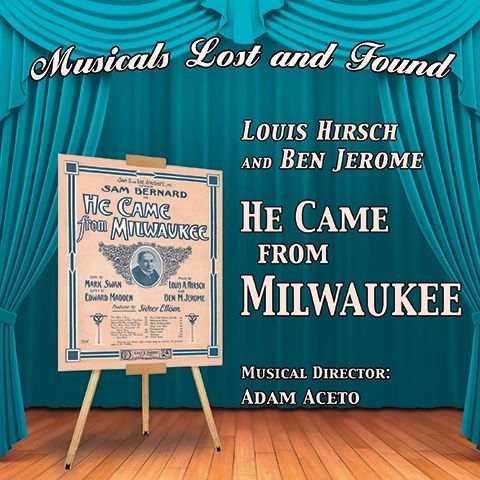 OA1032: He Came From Milwaukee
HE CAME FROM MILWAUKEE
By Louis Hirsch and Ben Jerome
Teaming with Ben Jerome on his first full show, Louis Hirsch, in He Came from Milwaukee, took his first steps toward transitioning the Broadway musical from its vaudeville/music hall/operetta foundation to a more modern musical paradigm, infectiously melodic throughout and imbued with "new-sound" harmonies and rhythms that would be picked up and refined some years later by Jerome Kern.
Music by Louis A. Hirsch and Ben Jerome      
Lyrics by Edward Madden
Musical Director:  Adam Aceto
1.  Overture
ACT I
2.  My! What a Cosmopolitan Crowd 
     Hotel Guests
3.  Gypsy Land
     Leska, Girls
4.  If We Were Married
     Betty, Bruce
5.  Love Is Like a Red, Red Rose
     Constance, Duke
6.  Merry Wedding Bells
     Duke, Constance, Betty, Bruce, Chorus
7.  Finale Act 1
     Ensemble
ACT II
8.  Royalty with Dignity
     Citizens of Zurach
9.  Come Back to Bohemia
     Leska, Chorus
10.  Entrance
11.  Consequences
       Herman, Chorus
12.  Zinga Zula Man
       Herman, Chorus
13.  Tie a Red Ribbon on Me
       Napoleon
14.  Exit
15.  Sentimental Moon
       Constance, Chorus
16.  There's an Airplane Air About You
       Bruce, Betty
17.  The Coronation
       Citizens of Zurach
18. Finale Ultimo—Merry Wedding Bells
       Ensemble
Bonus Tracks
19.  The Man I Love
       Betty
20.  If You Were There with Me
       Bruce
1 CD   Total playing time:  62 min.